LAB PACKING
North State Environmental specializes in the service of Lab Packing. We provide Lab Packing to more institutions of higher education than any other firm in California.
Our highly qualified chemists give us the personnel, experience and routine operating ability to provide a solution to your complex lab packing needs. Our structure that allows us to
interface with a large number of TSDFs provides a maximum possibility of permanent waste solution.
Our Waste Disposal Services are designed to assist customers in minimizing waste,
protecting against spills, managing hazardous materials, and accomplishing UST closures and complying with hazardous materials record keeping, environmental reporting and radioactive waste issues. We dispose of all chemical types of waste including:
Organic
Inorganic
Liquid
Solid
Gases
Soil
Asbestos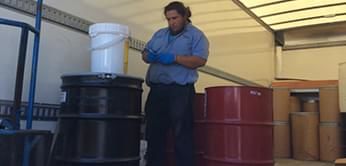 Biological
Explosives
Universal Waste
Metal Sludges
Low Level Radioactive
Laboratory Chemicals
Other Sludges